​​Design a user-centric mobile-first experience that increases trust and credibility in election content, in some way, for readers. Consider a visual or functional experience that confirms that news, polls, and outcomes are trustworthy to users.
Our two-person team finished in the

top ten

out of 315 teams across the US, Canada, UK, Norway, Finland, Denmark, and Ireland.
The project received

the highest user experience score

and ranked 4th place overall, an 87.5 out of a possible 100 points.
UX/UI Designer
, with emphasis on research and strategy.
Collaborated with my friend and colleague
Kevin Zhang
UX/UI Design, Research, Visual Design
2 weeks, September 14-28, 2021
We conducted secondary research to understand our target audience and make informed design decisions.
Asking questions helped frame our research:
• Where do people get their election news?
• How do people find out what they're reading/watching is true?
• What is the problem we're trying to solve?
Where do people get their election news?

• 65% of U.S. adults received important election information through a video-related source.
• 45% of Americans still watch TV to stay updated on political news.
How do people find out whether what they're consuming is true?
• A mix of comparing multiple sources, checking comments, Googling the fact, checking the historical credibility of the source, to name a few
• It's a lot of work to find out if something is true or not!
The problem
Video continues to be the most consumed media format, in part due to its presence among social media channels.
However, video is also the most challenging medium to fact-check.
It is problematic knowing that in 2019, approximately 65% of U.S. adults received important election information through a video-related source; a tool is increasingly needed to efficiently parse through potential video-based election misinformation.
We used whiteboarding to clarify assumptions within the project brief and develop further questions based on our secondary research.

Questions we asked included:
• "What is a user-centric mobile-first experience"
• "What does credibility look like?"
• "What does trust look like?"
• "What is election content?"
• "How will we know our design is successful?"
Based on our research findings, our team made several strategic decisions that influenced the design of our app.
• The app must offer functionality maximizing its mobile app-based context.
• The app must offer value that current news apps or websites could not provide. We must not reinvent the wheel!
• The app must avoid feeling hypothetical, a Dribble-esque design that looked great but lacked value and usability.
• The app should offer value on a consistent basis. It should not be a "disposable" app that would be used once or twice in an election season and deleted.
Huzzah! With the groundwork and strategy laid, our team began developing potential solutions.
We selected our solution based on several factors, including how well it solved the problem and met our strategic criteria (above).

Our app, Teletruth, uses speech-to-text technology, enabling voters to identify, validate, and understand false claims and biased statements. It's intended for use on audio and video sources, from the TV to Instagram live streams — and particularly beneficial during live election debates.
Claims are checked against multiple reliable and trustworthy sources for an accurate understanding of all sides to an issue in an increasingly polarized world.
Onboarding
Presenting snapshots of the app's value to users in a simple manner.
Recording and Transcribing
The app records video and audio, transcribing and fact-checking statements in the background.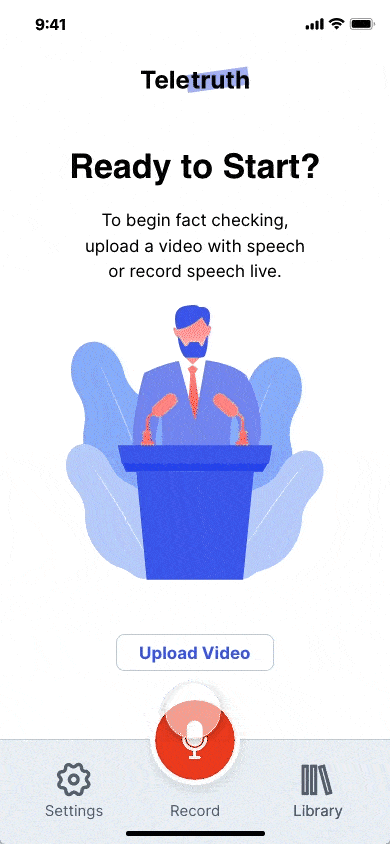 Live fact-checking
Questionable statements are brought to your attention. Discern the facts through relevant excerpts from credible news sources.
Review
At the end of the recording, all questionable statements are presented in an easy-to-digest format.
Library
Access past transcriptions in one convenient location.
Settings
Fine tune fact-checking detection including biases and contradictions.
👍 "I like this idea of verifying video speech, I do think it's needed to verify videos."
🤔 "Adding a search function could help so readers could search on Instagram or Youtube so they won't need to record it themselves"
👍 "I think this one was super different and I appreciate the boldness in trying something different. I particularly like the UI for the false claims ... I think you did a really good job"
🤔 "Why make people go the extra step? Why not preselect things that are popular on Youtube, run this scanner that you're doing, and surface that for us"
👍 "I thought this one was really interesting, such a unique way of using AI ... this would be really great for a journalist that's perhaps recording a conversation with a politician and wants to check when they're writing the article later"
🤔 "When the color codes come up, [having] some sort of color key to connect the two (highlight and meaning) together."